WiZ lighting | Connected light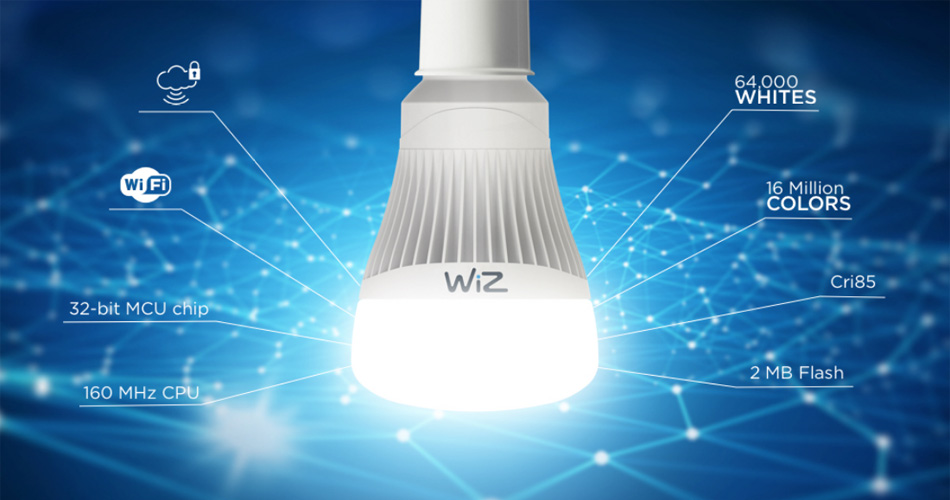 What is Wiz?
Smart lighting set up on your Wi-Fi network. Plug & Play. No bridge, no hubs, no gateway required. WiZ connects to the cloud to provide the best ambiance to see, read and live. Enjoy a healthier lifestyle, get more done and make your home look amazing.
Your light
the way you like it
Light has quiet power. It impacts your mood, your brain power, how you experience the world around you and even how you sleep.
With over 64,000 whites and 16 million colors to choose from to create dynamic lighting scenes that suit you best, you'll always have the best light to work, laugh and play.
Smarter. Brighter.
WiZ connects to the cloud, so it's always getting smarter. Your personal preferences and tastes are stored and can be instantly shared with your whole family. There's no need for manual updates anymore, because it's always connected. Everything is done automatically.
Control your Wiz lights using your voice with Amazon Echo and Google Home integration.
Create custom lighting changes based on the events that matter to you by linking your lights to the the IFTTT (IF This Then That) online service.
Create automatic schedules to turn your lights on and off, or change lighting modes, using the Wiz App; and enable presence simulation, to turn lights on and off when you're away, with vacation mode.
Ultimate reach
Turn your lights on or off from as far as the moon. As long as you have internet access, you can control what you want to do with your lights – even when you're not physically there. Now you'll never have to hear your mom say "Did you remember to turn your light off?"
Rooms
Lights
30 seconds to install*
4 ways to control
Make it yours